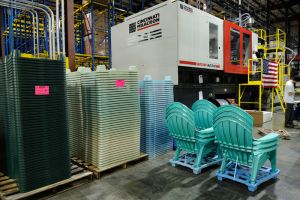 From the shop floor to the front office, Adams Manufacturing is deeply committed to achieving the highest levels of operational excellence and customer satisfaction.
In an age where quality and innovation are often an afterthought, Adams has never lost sight of its core mission to produce the highest-quality products at the best value.
We are able to achieve these unprecedented levels of manufacturing excellence and customer satisfaction by focusing on continuous lean improvement, manufacturing best practices, and product and process innovation.
Processing Capabilities & Equipment:
24/7/364 operation, based entirely in the U.S.
Clean and safe environment for all employees, with ongoing safety training and inspections
Late model "Made in USA" machines, including new custom-built, state-of-the-art molding presses
Injection molding machines from 55-2600 ton, with robotics and gravimetric blending
Precision molds and finely-tuned processes monitored several times a day by highly trained production technicians, supervisors and QA inspectors
SPC controls and ongoing training ensure consistent technical excellence
Scheduled preventive maintenance on all molds and equipment
Dedicated mold setters provide fast, safe, damage-free change-overs
Mold makers for small parts, mold repair, and prototyping
In-house machine shop provides fast, expert response for fabrications and repairs. Both CNC and EDM capabilities
100% air-conditioned plant provides constant temperature and humidity control for better repeatability and higher quality
High productivity and low scrap rates
Full-time maintenance crew for all grounds, including building repairs and upgrades
Proven contract molding expertise and capabilities with the same excellence we require for our own products
Materials:
Resins meet the highest, repeatable standards
Custom-blended formulations ensure consistent and uniform quality throughout the line
Custom-matched colors allow customers a wide array of possibilities while meeting health and safety requirements
Quick to analyze and utilize improved materials, colors, and processes to benefit customers
Eco-friendly approach to product design and packaging emphasizes efficiency to reduce waste
UV-protected materials to prevent color fading
Facilities:
Five modern facilities provide over a million square feet of manufacturing and storage space
Rail siding ensures prompt, environmentally-friendly delivery of material and better control over storage
Advanced mixing silo, eight stories high, enables consistent material mixing. This capability allows us to deliver superior products to our customers
Design & Engineering Excellence:
Deep commitment to using American ingenuity to create products that enrich consumer's lives
200 issued patents, with more than two dozen pending, ensuring a steady stream of new, exciting products
Over 100 years of combined engineering and design expertise enables us to create the best products at the lowest price
Highly driven to design products that are "plastic-efficient" and work well
In-house EDM, CNC, and ancillary capabilities allow us to build both prototype and production molds quickly and well
Strong working relationship with specialized North American mold builders help us provide the latest tooling technology
CAD expertise and 3-D prototyping speed up the cycle of product introduction
ASTM Testing & Quality Assurance:
Residential and commercial furniture routinely passes the rigorous American Society for Testing of Materials (ASTM) Standards
Incoming material is tested for quality and reliability
All products inspected per shift prior to packaging
Quality related items are documented in both electronic and hard-copy form
Distribution & Shipping:
Unparalleled reputation for on-time delivery has earned Adams Mfg. exceptional shipping ratings from North America's leading retailers
Ideally equipped and staffed with multi-shift logistics centers to handle any customer shipping requirement—from single small pack box to multiple truck loads
Our logistical experts pride themselves on preparing shipments to minimize customer handling issues
Extensive eCommerce fulfillment experience
Over 25 years of proven logistics experience shipping globally (truck, rail, air and boat) ensure that our customers receive expedited delivery at optimal cost
Costs are reduced by our strategically located shipping points that are optimally positioned for easy accessibility to major highways and DCs throughout North America